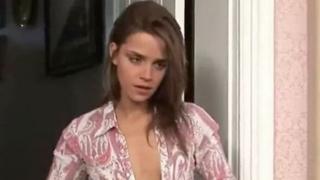 Pornographic videos that used new software to replace the original face of an actress with that of a celebrity are being deleted by a service that hosted much of the content.
San Francisco-based Gfycat has said it thinks the clips are "objectionable".
The creation of such videos has become more common after the release of a free tool earlier this month that made the process relatively simple.
The developer says FakeApp has been downloaded more than 100,000 times.
It works by using a machine-learning algorithm to create a computer-generated version of the subject's face.
To do this it requires several hundred photos of the celebrity in question for analysis and a video clip of the person whose features are to be replaced.
The results – known as deepfakes – differ in quality.
But in some cases, where the two people involved are of a similar build, they can be quite convincing.
Some people have used the technology to create non-pornographic content.
These include a video in which the face of Germany's Chancellor Angela Merkel has been replaced with that of US President Donald Trump, and several in which one movie star's features have been swapped with those of another.
Source: BBC News